Gabon- Established Oil Industry Player
Gabon is a sovereign state on the West coast of Central Africa. Located on the equator, Gabon is bordered by Equatorial Guinea to the North-West, Cameroon to the North, the Republic of the Congo on the East and South, and the Gulf of Guinea to the West.
Gabonhas an area of nearly 270,000 km2 and its population is estimated at two million people. Its capital and largest city is Libreville, however the oil industry in the country is centred around Port Gentil to the South. Gabon has a long history in the oil sector with well established legal and fiscal regimes, in addition to a stable political environment.
It contains mature infrastructure for production and export, providing tie back opportunities for small/medium size fields T5 has created a unique strategic partnership with Stream Oil Owali the only indigenous oil company in Gabon T5 have identified multiple opportunities for follow on deals in country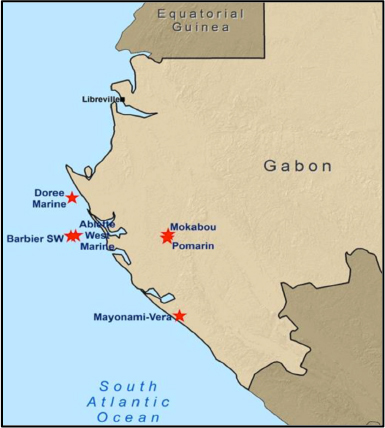 Operations Gabon
The Owali Permit covers a total area of 166.7 sq.km and is located in shallow water offshore and onshore Gabon. The Owali permit contains one producing field, two offshore development ready fields and four onshore fields requiring appraisal/development. T5 currently owns 1.7% of the block and has signed a farm in agreement allowing T5 to increase its stake up to 45%.